SPANG POWER ELECTRONICS ANNOUNCES THE INTRODUCTION OF ENHANCED TEMPERATURE CONTROL FEATURES INCLUDING AUTOMATIC RECIPE CONTROL INTEGRATED INTO STANDARD 1050 SERIES DIGITAL SCR POWER CONTROLLERS.
Spang Power Electronics, an innovator and global leader in power control and conversion technology, is pleased to announce the introduction of enhanced temperature control features for the standard 1050 Series product line. The enhanced feature set incorporates the functions of an external temperature controller directly into the 1050 SCR power controller.
Temperature Control features such as Automatic and Manual Control Modes coupled with deviation settings and programmable alarm and fault levels provide the foundation for Industrial Heating applications. A more advanced temperature feature included in the 1050 Series is Recipe Mode in which the user may set up a series of ramp and soak segments and have the power controller automatically control the temperature throughout the "recipe" based on a stored configuration and the actual thermocouple feedback.
Spang continues to develop valuable product features to meet Customer specific needs for industrial applications. For a more in depth look at the enhanced temperature features, click here.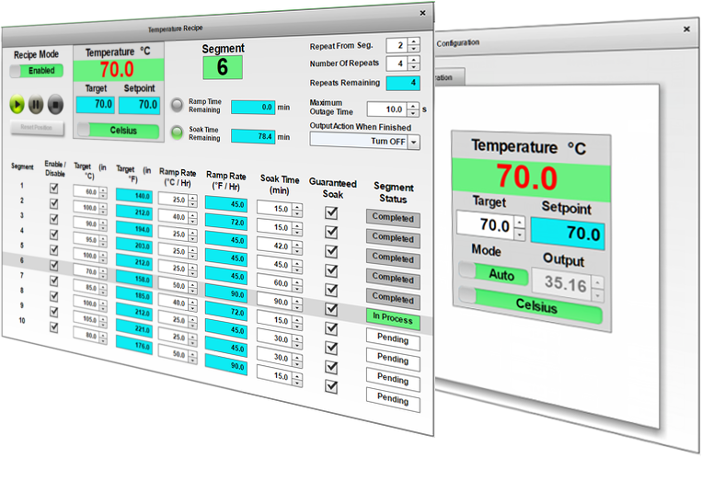 For more information about the 1050 Series product please visit Spang's website at 1050 Series SCR Power Controllers or contact:
Eric Kiray
Director || Product Sales and Development
Spang Power Electronics
9305 Progress Parkway
Mentor, OH 44060 USA
Phone: (440) 352-8600 x 3349
Fax: (440) 352-8630
E-mail: ekiray@spang.com
Web: www.spangpower.com
Spang Power Electronics is a global provider of power control and conversion equipment for industrial applications.