Spang Power Electronics single and three phase Digital SCR Power Controllers offer the latest in Digital Signal Processing (DSP) technology and software. DSP technology increases real-time process control information and reduces installation costs as well as allows for a wide range of options built into one standard package.
Spang's PC-based configuration tool software provides the versatility of choosing different regulation modes, control strategies, and load types. Interfacing to the digital power controller with a computer allows the unit to be truly customized for any industrial application.
The Digital SCR Power Controller is capable of operating in any one of four different firing modes:
Phase-Angle / Direct coupled to a resistive load
Zero-Crossover / Direct coupled to a resistive load
Phase-Angle / Control into a Transformer
Zero-Crossover / Control into a Transformer
The multi-firing mode capability allows for use of a single control amplifier and for common spare parts in multi-furnace facilities. This versatile controller is ideal for precise networked control of power in Glass & Fiberglass manufacturing as well as other industrial heating applications. Through network connectivity, you can improve system performance by cost-effectively linking multiple power controllers for central control through a programmable logic controller (PLC), or an industrial computer.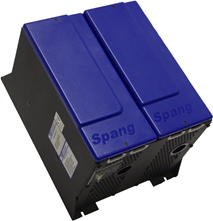 1050 Series Single Phase/3 Phase
The 1050 Series digital SCR controllers have been designed to deliver incredible new features like temperature regulation at an affordable price to the industrial heating market.
1050 Nano Single Phase/3 Phase
Spang Power Electronics has expanded its compact product offering to include a low current, din-rail mountable digital SCR power controller, the 1050 Nano.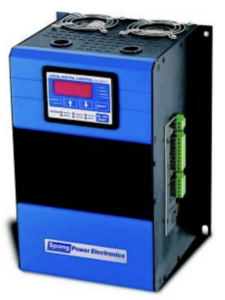 850 Series Single Phase/3 Phase
The 850 Series Digital SCR Controllers have been in the industrial marketplace since the late 1990's. With a strong technology focus, Spang continues to development innovative and reliable power control and conversion equipment.