SPANG POWER ELECTRONICS ANNOUNCES THE INTRODUCTION OF 1050 APPS TO COMPLEMENT THE 1050 SERIES DIGITAL SCR POWER CONTROLLERS; 2-CHANNEL OSCILLOSCOPE, REAL-TIME TRENDING, AND SMART PHONE / TABLET MONITORING.
Spang Power Electronics, an innovator and global leader in power control and conversion technology, is pleased to announce the introduction of the new 1050 Series Apps. The 2-channel oscilloscope and real-time trending app have been integrated into the standard 1050 Series web browser based configuration tool and deliver benefits for monitoring and troubleshooting process and power related phenomena as well as tuning control loops. The smart phone and tablet monitoring apps show real time operating conditions as well as well as active fault / alarm status and history.
Spang continues to develop valuable product features to meet Customer specific needs for industrial applications. For a more in depth look at any of the 1050 apps, please click on appropriate link below.
1050 Series Apps
2-Channel Oscilloscope App
Real-time Trending App
Smart Phone & Tablet Monitoring App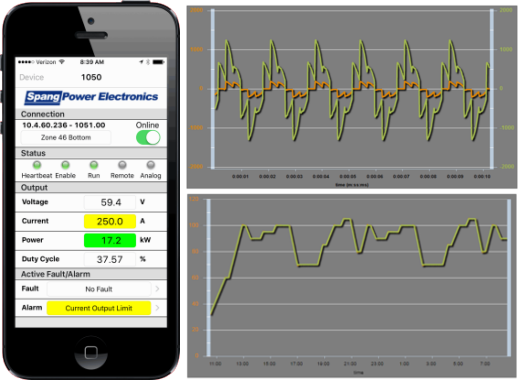 For more information about the 1050 Series product please visit the company's website at 1050 Series SCR Power Controllers or contact:
Eric Kiray
Director || Product Sales and Development
Spang Power Electronics
9305 Progress Parkway
Mentor, OH 44060 USA
Phone: (440) 352-8600 x 3349
Fax: (440) 352-8630
E-mail: ekiray@spang.com
Web: www.spangpower.com
Spang Power Electronics is a global provider of power control and conversion equipment for industrial applications.