SPANG POWER ELECTRONICS ANNOUNCES THE INTRODUCTION OF THE DIGITAL 1050 SERIES SYSTEM CONTROLLER FOR AC & DC POWER SYSTEM APPLICATIONS.
Spang Power Electronics, an innovator and industry leader in power control and conversion technology, has successfully supplied and commissioned multiple high-powered systems using the new 1050 Series System Controller.

The 1050 Series System Controller is a modernization and technology upgrade to the 950 Series, adding the features of the 1050 Series standard SCR controller to the expanded I/O interface and application specific configuration flexibility of the 950 Series. Previously not possible with a single controller, the 1050 Series System Controller provides control integration of multiple power conversion stages including SCRs and IGBTs in a variety of configurations including converters, buck converters / choppers, and inverters.

The 1050 Series System Controller shares key features of the 1050 family of SCR Power Controllers including:
Color touch screen for display interface
Built in high speed networking through Ethernet
Web browser, product hosted, configuration tool
MicroSD memory card for configuration file storage
Expandable and interchangeable hardware interfaces to satisfy a wide range of sophisticated power topologies
Optional network connectivity including PROFINET, Ethernet/IP, Ethernet MODBUS TCP, Profibus, or DeviceNet
Multi-Channel oscilloscope, real-time trending, smart phone and tablet monitoring apps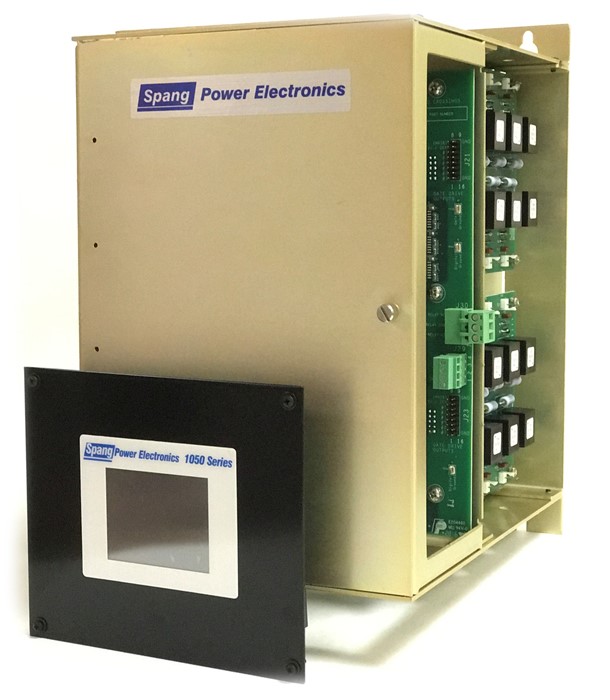 For additional information on Spang's AC & DC Power System capabilities please visit Spang's website at Power Systems or contact:
Christopher M. McCormick
Sr. Vice President of Business Development
Spang Power Electronics
9305 Progress Parkway
Mentor, OH 44060 USA
Phone: (440) 352-8600 x 3337
Fax: (440) 352-8630
E-mail: cmmccormick@spang.com
Web: www.spangpower.com
Spang Power Electronics is a global provider of power control and conversion equipment for industrial applications.